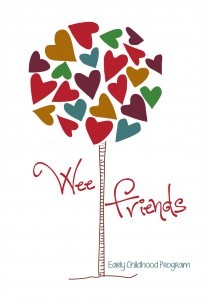 Our Mission Statement
Wee Friends promotes the total emotional, cognitive, and social and physical development of young children. At Wee Friends, learning occurs as the student voluntarily engages in choosing among alternatives such as dramatic play, sensory play, block building, music & movement activities, woodworking, art, writing and children's literature.
Children at Wee Friends undergo mathematical, scientific, linguistic, artistic, and  social growth through experiencing living. The teachers at Wee Friends guide students in investigating their own interests.  We accommodate for all learning styles and individual rates of development. We focus on the "whole" child.  We nurture children and build their self-esteem.
At Wee Friends you will find a closely-knit extended family as the parents interact with one another and all of the children.  We encourage this with an open invitation to participate in every day and special activities.   Our goal is to understand and support your parenting so that the children receive consistent guidance in their lives.
Our Approach to Curriculum
Our learning environment doesn't fit in a neat little descriptive box like some of the other popular learning approaches like Waldorf, Montessori or Reggio.  Our unique curriculum is something that has evolved throughout years of trying multiple methods of teaching and keeping the best parts and disposing of the parts that don't work as well. We joke that we are Wal-essor-io because our program has many of the best aspects of each of these educational philosophies.  This combination of styles has evolved into a truly wonderful constructivist learning environment at Wee Friends.
Constructivism at Wee Friends looks like:
Qualified teachers who are passionate about children
Curriculum created from teacher observations
A mix of child initiated vs direct teaching
Love of learning primary goal
Experiential, real
Filled with choices
Individually paced
Focused on the natural gifts of children
Socially and emotionally focused
Multi-aged groups
Balanced
Learning is integrated across curriculum
Researched based
To ensure the right ratio of child initiated activities to teacher directed activities, in 2012 we created the WF Framework for Academic Balance (FAB).  Our FAB is a teacher organizing tool that makes certain that our older preschoolers and kindergartners have been offered activities that encompass the Indiana Academic Standards for Kindergarten.  Our FAB does not compromise or change our constructivist learning environment because the activities are always connected to our emergent curriculum and incorporated naturally into our day. Our child initiated curriculum combined with our FAB works extremely well for preparing children for their next level of education.
What is D.A.P.?
A D.A.P. (Developmentally Appropriate Practices) classroom has a lot of bustle and noise and children are up doing things: talking, playing, and exploring.  This environment differs from the old grade-school images of a teacher doing a lot of talking at a blackboard while children sit and listen quietly at their desks.
Research and experience tell us that to be effective with young children, teaching needs to be "developmentally appropriate."  What this means is simply that educators need to think first about what young children are like and then create an environment and experiences that are in tune with the children's characteristics.
At Wee Friends, we base our curriculum on the theories and research of The Creative Curriculum.   The Creative Curriculum balances both teacher-directed and child-initiated learning, with an emphasis on responding to children's learning styles and building on their strengths and interests.
Children 2-6 learn far better through direct interactive experiences than through just listening to someone talk.  They learn extraordinary amounts through play and exploration.  And the younger children are, the more what they learns needs to be relevant and interesting on the day they learn it, not just in the context of some future learning.
 Here are some developmentally appropriate practices that you will find at Wee Friends:
We will support children's play by providing space, opportunity and interesting materials.  Children will be exploring, establishing environments, solving problems, and developing shared understandings.
Children will be taking control of their learning through the power of CHOICE.  They will choose the activities they want, the peers with whom they will work and play, and how they will appropriately use available materials.
We focus on the process versus the product.  We allow the freedom to try out things without worrying about a product to "take home."
We provide an assortment of art materials that children may choose from to make their own unique creations.  As the children independently draw, paint, and sculpt they think creatively, make decisions, solve problems, and develop fine motor skills.  All of these activities prepare children for writing in later years.
We encourage the children to begin the journey of literacy.  Long before children learn to read and write they are learning the skills necessary for this.  Individual interactions with a teacher help children as they move through the natural stages of literacy.  We use daily message boards and journaling to encourage older preschoolers to build literacy skills everyday.
The outdoor environment is an extension of our classroom and is used daily.