We prepare simple "whole food" meals and snacks that nourish the children during the day, as well as helping them to develop healthy eating habits to maintain proper weight and ward off chronic diseases later in life. 
Wee Friends uses local organic products as we find them available and affordable.  To that end, we have developed a relationship with our local food cooperative who support Northern Indiana farmers and our community.

Purple Porch Coop Store http://www.purpleporchcoop.com/
Starting spring 2014, Wee Friends made the switch to The Purp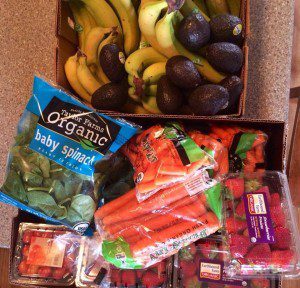 le Porch Coop Store for high quality organic produce that is locally grown whenever possible.  PPC makes weekly deliveries of organic fruits, vegetables, and other grocery products to our program.
Tami Barbour became a member-owner of the PPC, in March 2014 because she believes in the founding principle of the PPC, "Eat organically, and know where it came from." http://www.flavor574.com/Spotlight-2/2014/03/27/Purple-Porch-Co-Op-couples-local-flavor-with-healthy-standards.html   Also, if you've ever had a local, vine ripened PPC strawberry, you will understand why we are willing to pay a little more for quality food.
 WeeSprouts!
WeeSprouts is a program developed in winter 2012 in an attempt to answer the question, "How do we get kids to eat more fresh vegetables?"  In this program, we started setting out bowls of fresh cut vegetables for the children to consume at their leisure anytime throughout the day and the children were allowed to eat as many vegetables as they wanted!
We found the answer to our question.  Children will happily consume a variety of raw vegetables if they are available in the absence of other food choices.  So, WeeSprouts have become part of our classroom culture where preschoolers meet at the kitchen island for a chat with friends while sipping water and munching on some fresh cut vegetables.  This is how we want our kids to view healthy foods.
"Children naturally love natural foods. Their genetic makeup is designed to consume nature's bounty without any coaxing or effort; they naturally love fruits and vegetables."  Dr. Joel Fuhrman
Other parts of our nutrition education include:
Teaching the children the difference between processed foods that are filled with unnatural ingredients, preservatives, and sugars and healthy foods that fill our plate at school.
Daily emphasis on how the healthy foods we eat benefit our bodies.
Learning how to grow vegetables in the summer and eating freshly picked vegetables for meals and snacks…often eating them right off the vine!
Family style serving of meals to encourage children to be independent in making good food choices and portion sizes.
Child participation in the preparation, serving, and clean-up of meals.
Recycling our food scraps to a local farm during our farm trip season
Nutrition References:
Campbell, T. Colin.  2006.
The China Study
Demas, Antonia.  2001. 
Food is Elementary.
Fuhrman, Joel.  2005. 
Disease-Proof Your Child: Feeding Kids Right.
Robbins, John.  2001. 
The Food Revolution: How Your Diet Can Help Save Your Life and Our World.
So What Does this Look Like on a Wee Friends' Lunch Plate? Here are a few examples: